PROMOTING INDIGENOUS LEAFY VEGETABLES: SCIENTISTS ENGAGE FARMERS THROUGH PARTICIPATORY VARIETAL SELECTION
In many parts of the world, traditional leafy vegetables have long been a staple in local diets, cherished for their nutritional richness and cultural heritage. Ghana is endowed with a diverse range of traditional leafy vegetables that naturally thrive in the country's environmental conditions, requiring minimal effort to flourish. Despite the potential these traditional leafy vegetables possess, these invaluable crops have often been underutilized and overshadowed by more commercially popular vegetables within the Ghanaian community.
Recognizing the need to preserve these indigenous leafy vegetables and promote their cultivation, scientists from the CSIR-Crops Research Institute (CSIR-CRI), are spearheading a movement to engage farmers directly in the selection and growth of these valuable crops.
The approach, known as Participatory Varietal Selection (PVS), is a collaborative effort that actively involves farmers in the process of selecting and developing varieties of indigenous leafy vegetables. Farmers become an integral part of the decision-making process, gaining valuable knowledge and expertise about the diverse range of indigenous vegetables available and how to cultivate them effectively. This initiative aims to empower farmers with knowledge and practical experiences to enhance their farming practices and encourage the growth of indigenous leafy vegetables.
With support from the Global Crop Trust, twenty (20) farmers from Barekese in the Atwima Nwabiagya North district of the Ashanti region were invited to the Kwadaso station of the CSIR-CRI to take part in the participatory varietal selection of three indigenous leafy vegetables-roselle, amaranthus and corchorus, locally known as "sule", "alefu", and "ayoyo" respectively.
The PVS approach began with scientists showcasing different indigenous leafy vegetable varieties to farmers. Farmers were encouraged to evaluate and provide feedback based on various criteria, such as taste, adaptability to local climate, resistance to pests and diseases, and yield potential.
Afia Anani, a farmer who actively participated in the PVS, expressed her enthusiasm for the initiative. "I have never planted indigenous leafy vegetables before, but after witnessing the demonstration, I am considering delving fully into indigenous leafy vegetable farming. It is cost-effective, and I envision making a livelihood from it", she said.
Another farmer, Awudu Razak, indicated that he had been cultivating roselle for several years without being aware of the diverse varieties present in Ghana. However, following his involvement in the varietal selection process, he identified alternative varieties that he considered superior to his current choice. Consequently, he appealed to the project organizers to provide these new planting materials to him and his fellow farmers, believing that it can significantly enhance their agricultural practices.
Dr. (Mrs) Patricia Pinamang Acheampong, the lead scientist overseeing the project, expressed her gratitude to the farmers for their dedication to the entire process. She emphasized the nutritional qualities these indigenous leafy vegetables possess and how tasty they felt on the tongue. She also expressed the importance of empowering farmers through PVS. "Farmers possess a wealth of traditional knowledge about local crops. By involving them in the selection of varieties and cultivation techniques, we tap into their expertise and ensure that the resulting farming practices are sustainable, tailored to local conditions, and in line with their preferences," Dr. Acheampong stated.
She added that this collaborative evaluation process ensures that the selected varieties align with both agricultural best practices and community preferences.
Mr. Isaac Newton Boakye Mensah, the breeder/agronomist on the project, also highlighted the remarkable growth cycle of the leafy vegetables, which is about seven weeks from planting to harvest, and the impressive yields they offer. He acknowledged the potential of these indigenous leafy vegetables and recognized their capacity to enhance the Ghanaian economy and revolutionize farming for numerous farmers.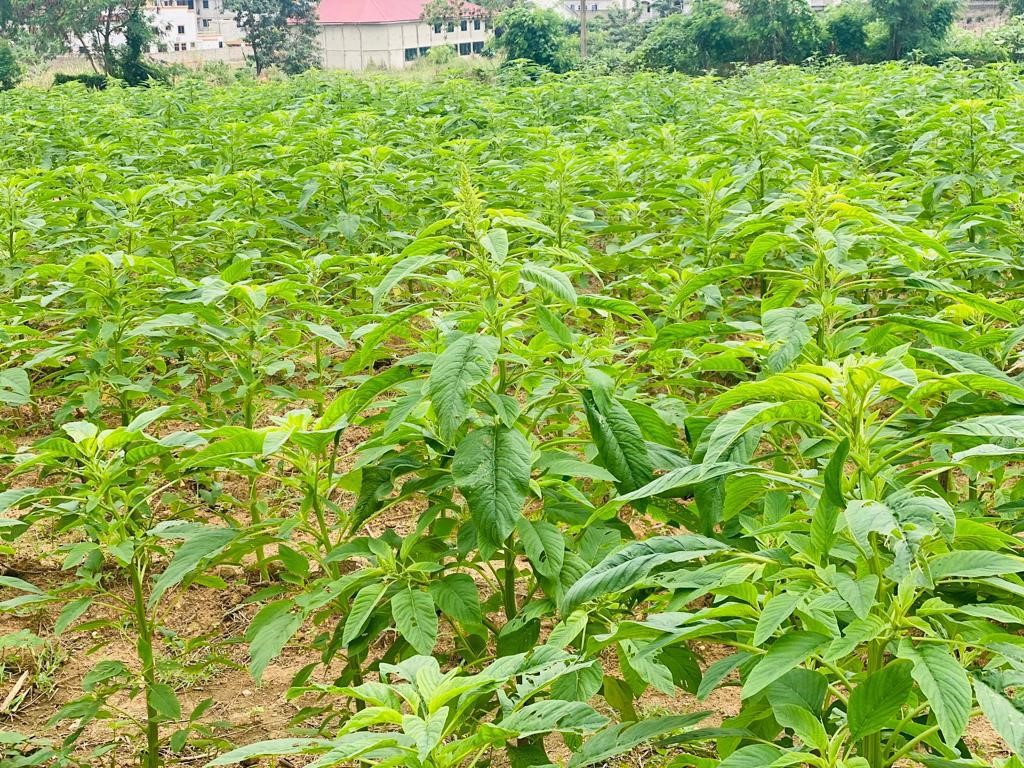 Dr. Acheampong indicated after the selection process that, the most popular varieties selected will be further multiplied by the project and given back to farmers to produce in large quantities. She also expressed gratitude to the CSIR-Plant Genetic Resources Research Institute (PGRRI) for supplying the project with the accessions for the project.
This initiative marks the beginning of more significant developments concerning indigenous leafy vegetables. The CSIR-CRI's mission is to shift the narrative surrounding indigenous leafy vegetables so that they become an integral part of the Ghanaian diet. This project will empower both farmers and consumers, ultimately fostering a more sustainable and nutritious future for all. The CSIR-CRI is at the forefront of this journey, working tirelessly to promote indigenous leafy vegetables and improve the lives of Ghana's farming communities.
Authors: Patricia Konadu Mensah, Bernard Sakyiamah, Dr. Patricia Pinamang Acheampong, Dennis Gyasi Boakye, Enoch Bobie Agyemang