PLANTAIN FARMERS RECEIVE TRAINING IN TISSUE CULTURE: A STRIDE TOWARDS COMMERCIAL AND SUSTAINABLE AGRICULTURE
In a significant step towards advancing agricultural practices and increasing plantain yields, a transformative training program on tissue culture techniques was conducted for plantain farmers within the Ashanti and Western regions of Ghana. The comprehensive workshop, held on 24th August, 2023, at the CSIR-Crops Research Institute, aimed to equip farmers with cutting-edge methods of propagation, fostering a sustainable approach to plantain cultivation.
Organized by the CSIR Plantain and Banana Tissue Culture project of the Institute the training workshop brought together enthusiastic plantain farmers and agricultural extension agents from communities such as Agogo, Manso-Amenfi and Goaso. The program was designed to address the multifaceted challenges faced by plantain growers, such as pests, diseases, and diminishing productivity.
Led by tissue culture experts at the Institute, the training comprised various topics related to tissue culture techniques. Participants were guided through the science of tissue culture, laboratory practices, media formulation, and other vital aspects essential for successful tissue culture implementation.
In her welcome address, Dr. Ruth Prempeh, a Senior Research Scientist and an expert in plant breeding and molecular biology, indicated to participants that vegetatively propagated crops like plantain are usually prone to diseases that can lead to diminished yields over time and as such using disease-free planting materials of improved varieties was the surest way of ensuring higher yields. "Most of these diseases cannot be seen by the human eye. Their effects only manifest through low yields", she stated. She entreated participants to not only take advantage of the training and gain more knowledge in plantain production but also share the acquired knowledge with colleague farmers.
Dr. Victor Amankwaah, a plant breeder and tissue culture expert, who is also the project leader, led the instructional session and highlighted the transformative potential of tissue culture methods. In his presentation on mass propagation of quality plantain planting materials and handling, he introduced participants to various tissue culture techniques and also gave an overview of the formal and informal seed systems. He also compared properties of conventional and tissue culture generated planting materials and mentioned to participants the need to adopt the latter in their cultivation of plantains. "Tissue culture presents an opportunity to amplify plantain production by swiftly generating disease-free and high-yielding plantlets," Dr. Amankwaah stated. "Through these techniques, farmers can overcome traditional barriers and usher in a new era of plantain production."
The hands-on practical aspect the training took place in the CSIR-CRI's fully-equipped tissue culture laboratory. Here, participants had the chance to immerse themselves in the hands-on process of plant cell culturing, propagation of plantlets, and transitioning them from laboratory conditions to field environments. The active participation of farmers in these sessions underscored their commitment to enhancing their skills and knowledge.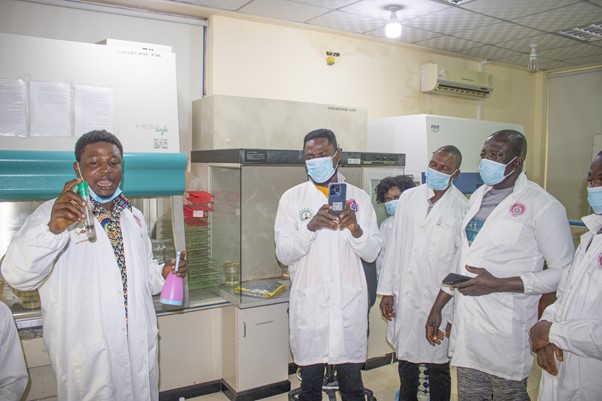 Madam Olivia Agyeiwaa, one of the attendees from Goaso, expressed a hopeful outlook after the training. "I've been facing challenges with plantain diseases and inconsistent yields for a while. This training has unveiled a promising pathway to enhance my farming practices. I'm eager to incorporate tissue culture techniques into my approach", she stated after the training.
Beyond laboratory techniques, the training covered post-transplant care, pest management strategies, and optimal nutrient utilization, ensuring that participants left with a comprehensive understanding of plantain cultivation from start to finish.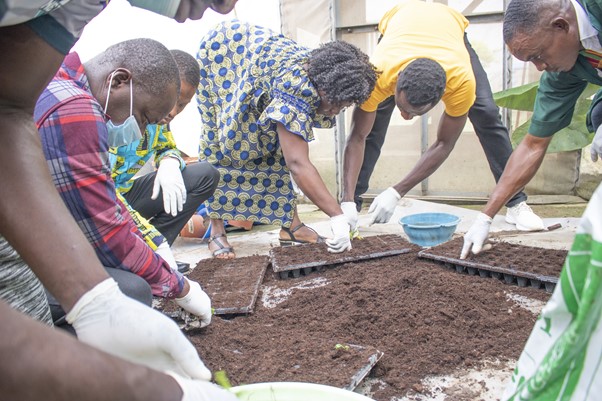 At the end of the training, Mr. Emmanuel Osei Bonsu, a municipal crops officer from the Asante Akim North Municipal Assembly conveyed gratitude to the organisers for the opportunity. He also thanked participants for their enthusiastic involvement and their readiness to embrace innovative techniques. Dr. Victor Amankwaah thanked the participants for making time for the training and urged them to share the knowledge they've acquired with colleague farmers.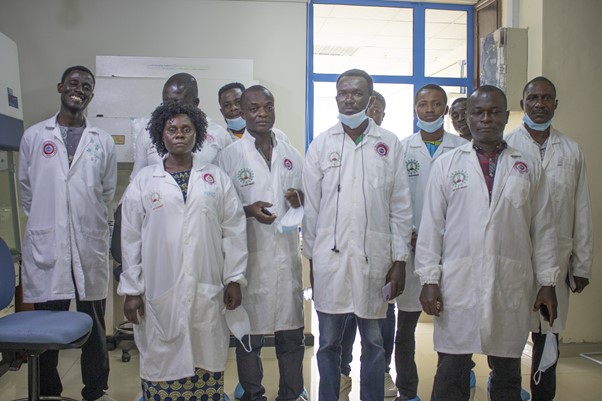 Authors: Bernard Sakyiamah, Dr. Victor Amankwaah, Enoch Bobie Agyemang.