TRANSFORMING AGRICULTURE: CSIR-CRI AND IITA COLLABORATE TO ADVANCE SEED YAM TECHNOLOGY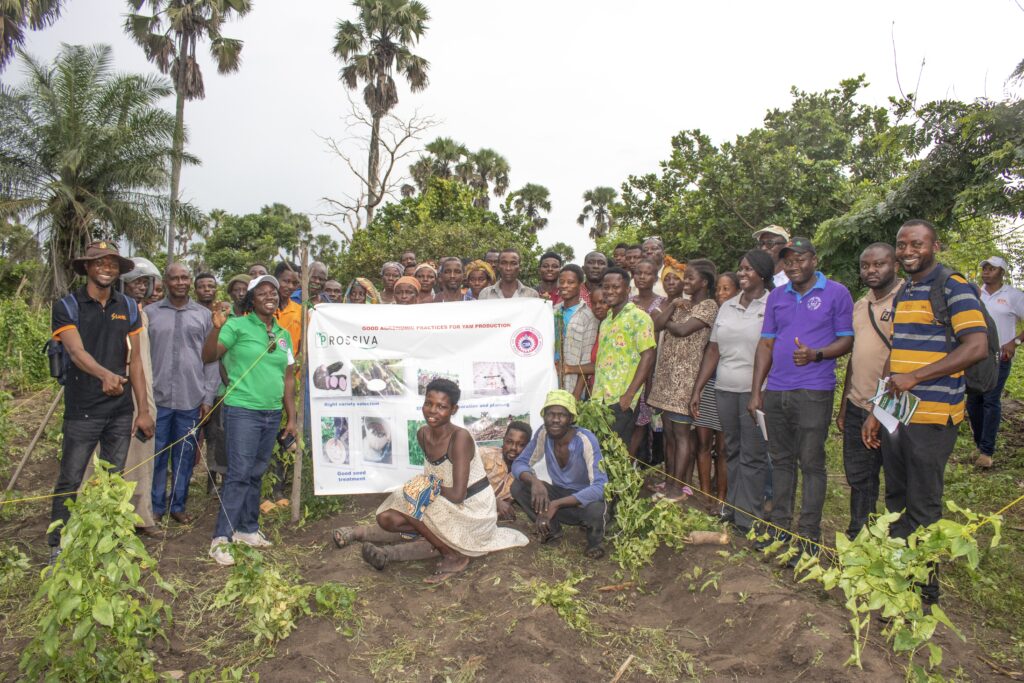 In a significant stride towards revolutionizing yam cultivation and boosting agricultural productivity, the Council for Scientific and Industrial Research – Crops Research Institute (CSIR-CRI) has joined forces with the International Institute of Tropical Agriculture (IITA) to impart critical knowledge and expertise to farmers in seed yam technology.
The collaborative effort was marked by a farmers' field day organized by the two institutions on Wednesday, 20th September, 2023 at Asempaneye in the Offinso North district of Ghana. The event aimed to equip farmers with the latest advancements and best practices in seed yam production, focusing on innovative techniques that can significantly enhance yields and improve the quality of yams. Yam farmers, agricultural extension agents from the Ministry of Food and Agriculture as well as other project partners participated in the field day.
The field day was organized as part of activities under the yam component of the Programme for Seed System Innovation for Vegetatively Propagated Crops in Africa (PROSSIVA) project being undertaken at the CSIR-CRI. The PROSSIVA project seeks to develop and validate packages of innovations to strengthen functional seed systems of yam and positively impact smallholder farmers and consumers in sub-Saharan Africa by 2030. It also seeks to increase the productivity of the vegetatively propagated yam by increasing the volumes of seed sales and building capacities for seed production and marketing thereby contributing to poverty alleviation and improved livelihoods, particularly for women and youth.
Yam farmers, drawn from several communities were trained on essential aspects of seed yam technology such as pre-planting treatments, nursery management, pest and disease management, and optimal harvesting practices. Farmers were also educated on post-harvest handling techniques to ensure the yams' marketability and longevity.  A new technology where seed yam is produced from yam leaf cuttings instead of the traditional method of cutting tubers to produce seed yam, was also introduced to the farmers.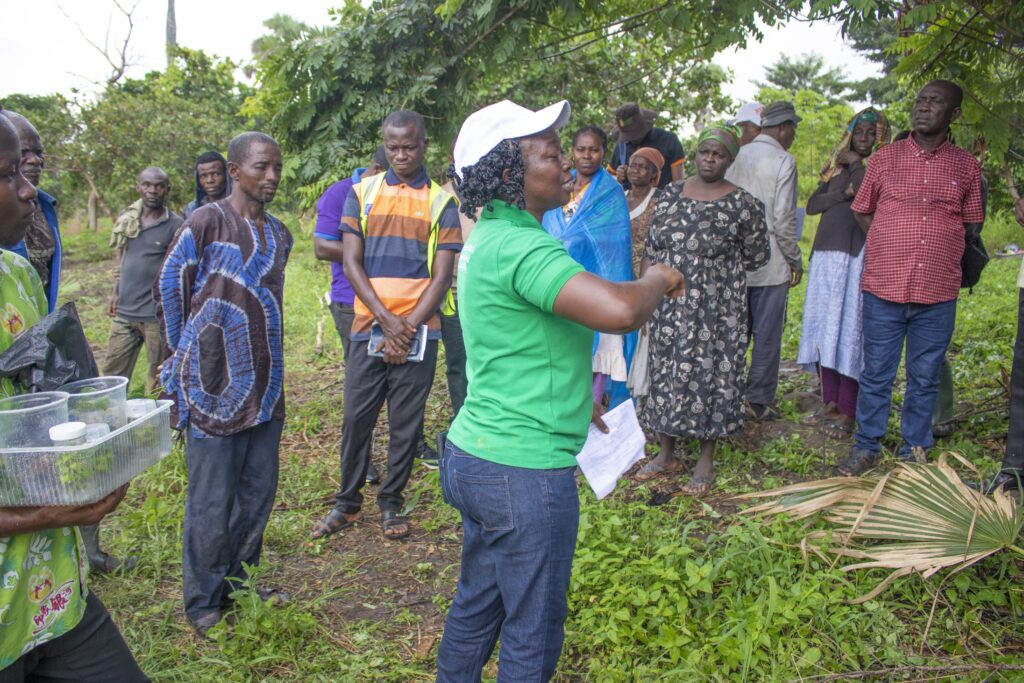 Dr. (Mrs.) Mary Otiwaa Osei Asante, an agronomist at CSIR-CRI who spearheaded the training, mentioned that this new technology aims to tackle the difficulties farmers encounter when trying to obtain high-quality seed yam. These challenges often involve substantial expenses for conventional seed yam, which is typically susceptible to diseases and pests. Furthermore, she highlighted that this technology has the potential to yield more than one hundred new plants within a four-month timeframe whereas the traditional approach typically results in just a few seeds per year.
Dr. David Appiah-Kubi, a research scientist from the CSIR-CRI and the project leader, emphasized the importance of this collaboration in advancing agricultural practices. "Seed yam is the foundation of a successful yam cultivation enterprise. By partnering with IITA and conducting these training programs, we aim to empower farmers with the knowledge and skills necessary to achieve higher yields and contribute to food security, "he stated.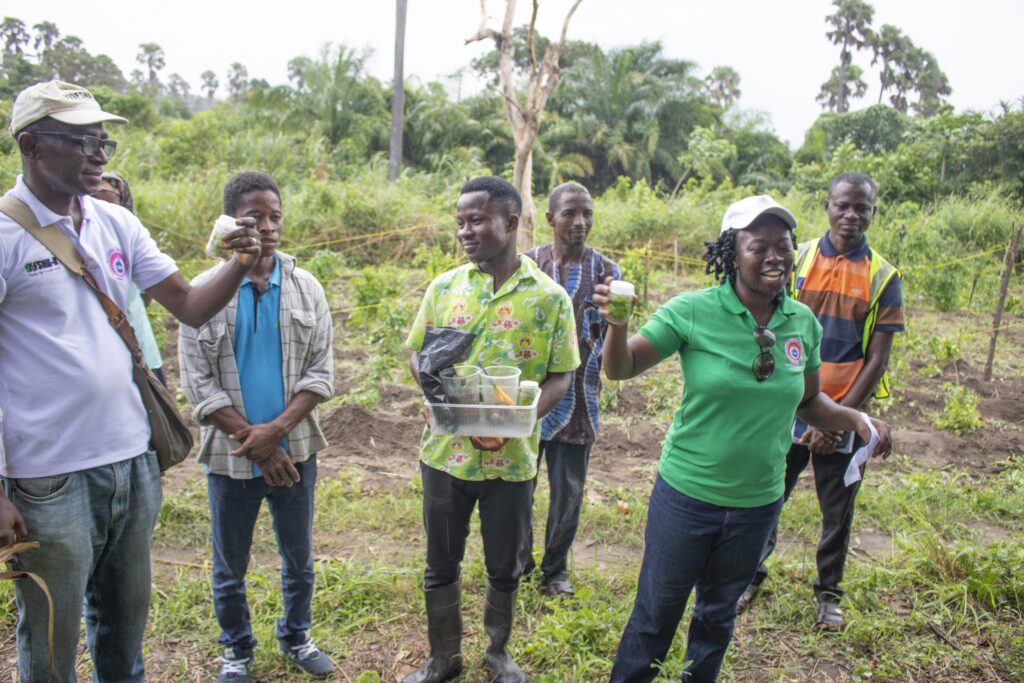 He added that IITA, renowned for its expertise in tropical agriculture, would provide valuable insights into cutting-edge technologies and research findings related to yam cultivation and that the collaboration between CSIR-CRI and IITA would bridge the gap between research and farmers, ensuring that the latest innovations are effectively disseminated and implemented at the grassroots level.
Mr. Wisdom Ezechi, a representative from Sahel Consulting Agriculture and Nutrition Limited, one of the partners under the PROSSIVA project, indicated that, his outfit would provide farmers with various marketing channels and business modules so they can derive maximum financial benefits from their outputs. "It is not enough to leave the innovations in the hands of the farmers. We have to take it beyond the community so that other people will know what they are doing", he stressed.
Dr. Djana Mignouna, an agricultural economist and MLE specialist with IITA, also expressed enthusiasm about the training and encouraged farmers to adopt modern and effective seed yam production practices, ultimately leading to increased productivity, improved livelihoods, and food security in the country.
Feedback from farmers
Mr. Francis Mensah, a participating farmer was grateful to the PROSSIVA project for the opportunity to learn. "This training has opened my eyes to new approaches in seed yam technology. I'm eager to implement these strategies on my farm and witness the positive impact on my yam production," he shared. Another farmer, Mrs. Amina Ahmed, expressed her gratitude to the organizers and indicated that she was not only going to implement the new knowledge gained but also educate colleague farmers who couldn't be present.
In his concluding remarks, Mr. Edward Boamah, the District Director of Agriculture in the Offinso North district, thanked the PROSSIVA project for selecting his district for the training and pledged the agriculture department's commitment to ensuring that farmers adopt the new technology. "We at Offinso North are excited to have been chosen for this very important training and together with all my agricultural extension agents, we promise to work assiduously to ensure that the objectives of this project are achieved.
Future Collaboration
CSIR-CRI and IITA envision this partnership and subsequent training programs as a stepping stone towards a more resilient and productive agricultural sector. By empowering farmers with the latest seed yam technology, the aim is to propel the yam industry forward and secure a prosperous future for farming communities.
As the event concluded, participants left with a renewed sense of enthusiasm and determination to implement the knowledge acquired, looking forward to a promising future of thriving yam cultivation.
Authors: Bernard Sakyiamah, Dr. (Mrs.) Mary Otiwaa Osei Asante, Dr. David Appiah-Kubi, Enoch Bobie Agyemang, Dennis Gyasi Boakye