TOWARDS AGRICULTURAL SUSTAINABILITY: YAM FARMERS EQUIPPED WITH EXPERTISE IN SEED YAM PRODUCTION
In a concerted effort to bolster agricultural productivity and sustainability, a training program focused on imparting good agronomic practices to yam farmers has been successfully conducted. Organized by the yam component of the Programme for Seed System Innovation for Vegetatively Propagated Crops in Africa (PROSSIVA) project at the CSIR-Crops Research Institute (CSIR-CRI), the training aimed to impart invaluable knowledge and techniques for the precise art of seed yam production to selected yam farmers from the Offinso North district in the Ashanti region of Ghana. The farmers were drawn from communities such as "Asempaneye", "Kedee-krom", "Garman", "Asuoso", "Dwendabi" and "Nkwakwaa". The training also aimed at equipping yam farmers with essential techniques to optimize their yields while adhering to sustainable and eco-friendly practices.
Seed yams are a fundamental component in yam cultivation, forming the basis for successful yields and improved agricultural practices. The selection and use of healthy seed yams are crucial for the success of the yam crop, as they determine the potential yield and quality of the harvest.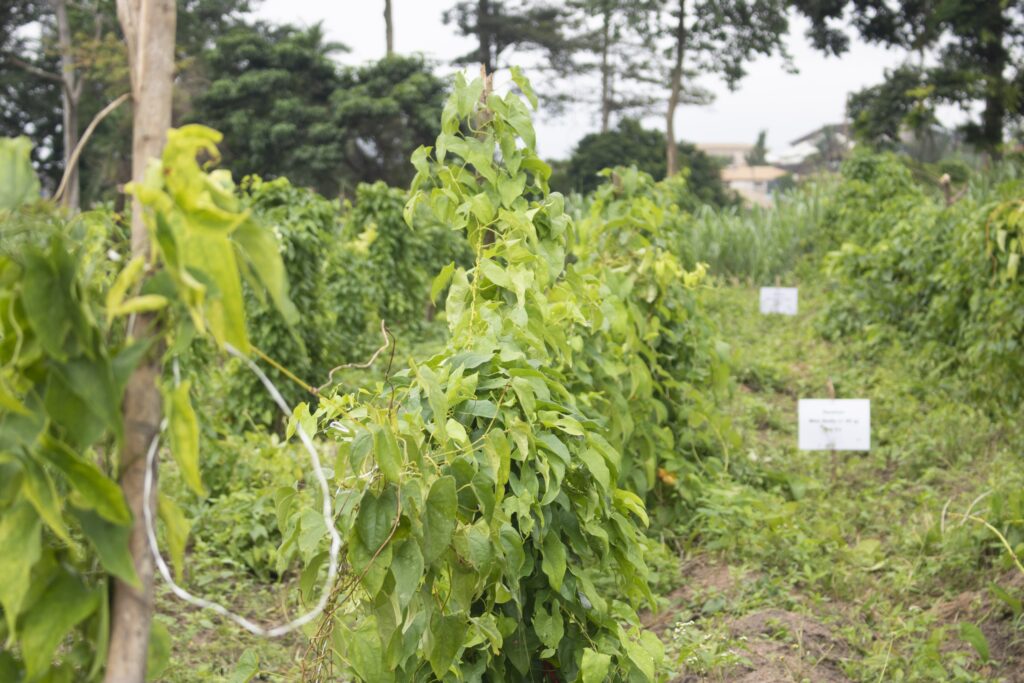 In his welcome address to the farmers, the Deputy Director of the CSIR-CRI, Dr. Maxwell Darko Asante, introduced the Institute and its activities to the farmers and entreated them to take advantage of the training and acquire new knowledge in seed yam production. He also encouraged them to share any new ideas they would be introduced to, with colleague farmers. Dr. Asante indicated that the Institute's doors would always remain open to farmers anytime they needed help.
Led by Dr. (Mrs) Mary Otiwaa Osei Asante, an agronomist with the CSIR-CRI, the training aimed to elevate the farming community's understanding of the critical role that quality seed yams play in the cultivation process. It covered a comprehensive range of topics critical to seed yam production such as right variety selection, efficient land preparation and planting, good seed treatment, staking, harvesting and sorting. The farmers were also educated on disease management and storage practices, as well as the crucial role of high-quality seed yams in maximizing crop yield and quality.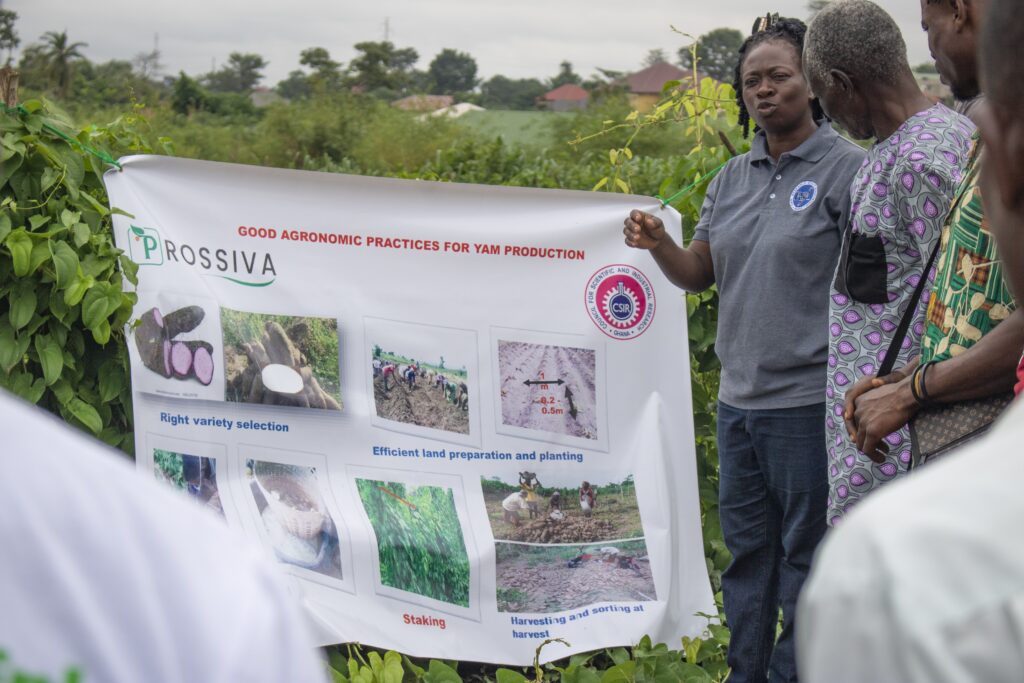 Dr. Osei Asante, emphasized the significance of proper seed yam production. "Seed yams are the foundation of a successful yam farming venture. Using healthy, disease-free seed yams can significantly impact crop growth, resistance to diseases, and ultimately, the farmer's income. This initiative aims to ensure that farmers are equipped with the expertise to produce top-quality seed yams", she added.
Practical demonstrations and field visits were essential components of the training, allowing farmers to witness best practices in action. The training also addressed the importance of maintaining a clean and disease-free environment to cultivate healthy seed yams.
Dr. (Mrs) Patricia Acheampong, an agricultural economist and member of the PROSSIVA project team, also introduced the farmers to various marketing and economic modules they can make use of to increase their incomes.
Mrs. Esther Boadu, a participant and seasoned yam farmer, expressed her enthusiasm for the newfound knowledge. "I've been growing yams for years, but this training has opened my eyes to the critical role that high-quality seed yams play in the entire cultivation process. I am excited to implement these practices on my farm and contribute to the improvement of yam production in our community", she indicated.
Mr. Douglas Donkor, an agricultural extension agent in the Offinso North district who accompanied the yam farmers to the training also expressed satisfaction with the training and indicated the in-depth knowledge received has cleared any misconceptions farmers had about seed yam production. "I am very happy that I brought my farmers here today. I will ensure that they share the knowledge gained with colleague farmers who could not make it", he stressed.
Such collaborations between agricultural experts, governmental bodies, and local farmers are expected to enhance seed yam production and, subsequently, improve yam crop yields.
Authors: Bernard Sakyiamah, Dr. (Mrs.) Mary Otiwaa Osei Asante, Dr. David Appiah-Kubi, Enoch Bobie Agyemang , Dennis Gyasi Boakye