KNOWLEDGE OF INTERMEDIARIES IN AICCRA COMMUNITIES ENHANCED FOR GENDER-INCLUSIVE FOOD PRODUCTION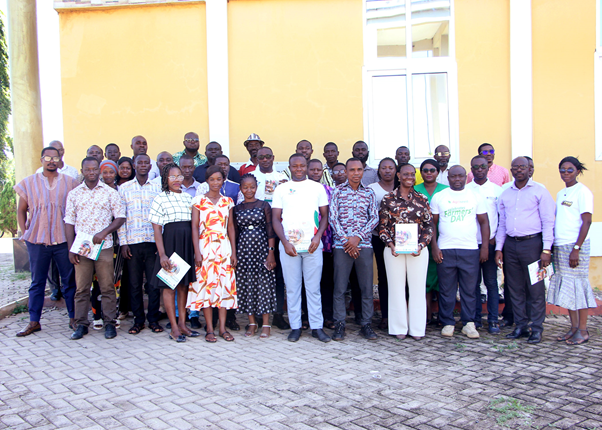 The CSIR-Crops Research Institute (CSIR-CRI), through the Accelerating Impacts of CGIAR Climate Research for Africa (AICCRA) project, has trained thirty-four (34) extension officers and lead farmers to consider gender issues in their interactions with smallholder farmers.  
During a two-day workshop held in Kintampo, scientists highlighted gender issues prevailing in food production. They advised participants to integrate gender and social inclusion in their training work plan on Climate Smart Agriculture (CSA) and Climate Information Service (CSI) to address gender inequalities and empower women farmers. Participants were trained on gender and its related concepts, such as roles, equality, and equity.
Dr. Joyce Haleegoah, a gender and social inclusion expert at the CSIR-Crops Research Institute, stated that the concept of gender and its related terms are often misunderstood.  "Gender is a social construct of the roles, behaviour, responsibilities, and opportunities, which are assigned to and are expected of the relationships among women, men, boys, and girls in each society.
However, it is vital that people understand and can apply them in their activities", she stressed. She pointed out that gender disparities exist in farmers' adoption of CSA/CIS technologies because men and women have unequal access to resources, services, and opportunities such as cash and financing for initial investments, land ownership and control, technical training on CSA/CIS, and extension services as well as climate-related information.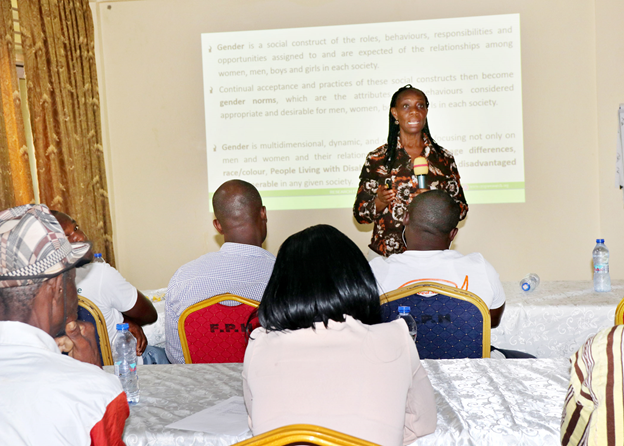 "It is crucial to build the capacities of extension services to address gender inequalities in farming communities," She added.
Gender Responsive Extension Services
Participants indicated that their understanding of the different groups' specific needs, preferences, and challenges concerning gender had been enhanced to enable them develop strategies and interventions tailored to these diverse contexts.
A lead farmer, Mr. Kwabena Gyening indicated that "the gender and social inclusion training has empowered me to know that women are to be involved in making decisions at the family level and in leadership".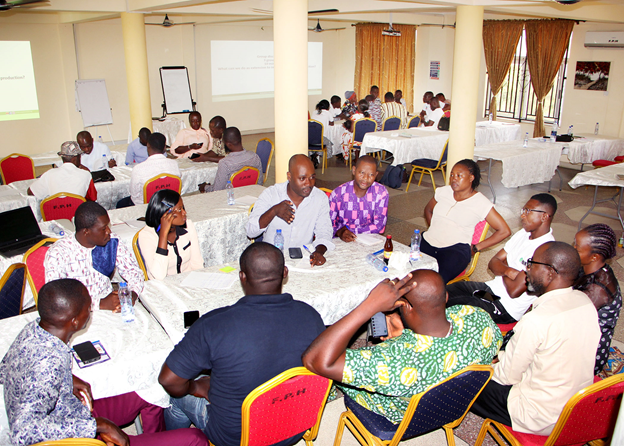 Abaa Dorothy, a farmer said "the gender and social inclusion approach prioritizes women's needs, including access to resources and information. "I realized that women and youth are the most valuable people in our society; therefore, there is the need to support them in most social intervention projects". 
Mr. Kwabena Atta Mensah, an extension officer who participated in the training also talked about the benefits of the training. He indicated that by prioritizing gender equality and social inclusion, the agricultural sector would become more equitable, productive, and resilient, benefiting individuals, communities, and the broader society.
"I learned more on how agricultural extension officers can incorporate training on gender equality," he added.
Dr. Stephen Yeboah, a Senior Research Scientist at the CSIR-Crops Research Institute and the technical focal person for AICCRA, urged the participants to become advocates for gender equality and social inclusion and also promote awareness of gender issues within their communities.
Contributors: Dr. Mrs. Joyce Haleegoah, Dr. Joseph Adomako, Ms. Linda Agyeman, Mr. Enoch Bobie Agyemang, Miss. Catherine Kaba, Mr. Isaac K. Frimpong