CSIR-CRI'S MAIDEN SCIENTIFIC PUBLICATION AWARDS: CELEBRATING EXCELLENCE IN RESEARCH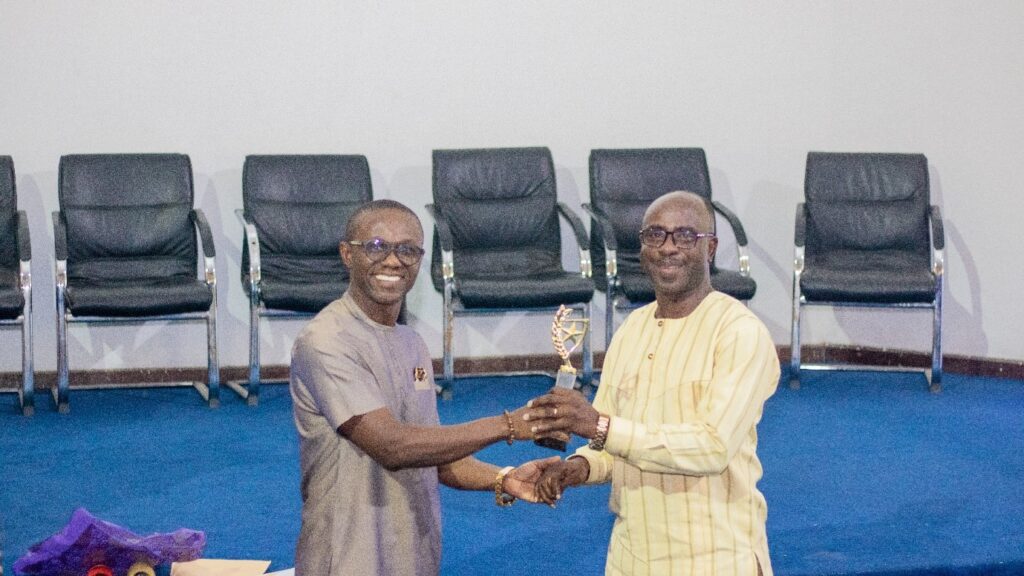 The CSIR-CRI Research Staff Association (RSA) has held its maiden Scientific Publication Awards to encourage scientists of the Institute to continue publishing their research findings. The awards ceremony was part of the Institute's annual In-house Review and Research Planning (IRREP) session held from 27th March to 31st March, 2023.
The IRREP is an occasion during which research scientists of the Institute give account of their activities during the previous year and present their proposals for the current year. Scientists get the opportunity to learn about each other's activities and also make valuable inputs to improve them.
With a weighted score of 34 points, 10 for refereed journal papers and 24 for all other publications, Dr. Stephen Yeboah, a Senior Research Scientist, with the Cereals Division of the Institute, emerged the overall winner, while Dr. (Mrs.) Mavis Badu Brempong and Ing. Dr. (Mrs.) Patricia Amankwaa-Yeboah came up second and third respectively with weighted scores of 21 and 20 respectively. Dr. (Mrs.) Brempong scored 16 for refereed journal papers and 5 for all other publications while Ing. Dr (Mrs.) Amankwaa-Yeboah scored 9 for refereed journal papers and 11 for all other publications.
All three winners were presented with certificates while Dr. Stephen Yeboah, the top prize winner also received the "winner's trophy".
Speaking at the end of the ceremony, the President of the CRI-Research Staff Association, Dr. Sylvester Addy, congratulated the winners and indicated that the awards ceremony will remain a part of the IRREP henceforth. He also encouraged other scientists to put in more effort so they could also be rewarded in coming years. "We decided to initiate this award scheme to encourage scientists to continue publishing their research findings in reputable journals and break scientific research boundaries", he said.
---
PROFILE OF WINNERS
Dr. Stephen Yehoah
Dr. Stephen Yeboah is a Senior Research Scientist, with the Cereals Division of the Institute. Dr. Yeboah has conducted extensive research in the areas of crop resource management and environmental and soil nutrient management on a variety of crops.
He has developed a number of technologies that have improved the livelihoods of resource-poor farmers.
His research priority is to improve understanding of plant responses to the environment with a focus on field, theoretical, and laboratory research towards increasing understanding of the soil–plant–water relationships and mitigating effects of climate change on crop production and environmental quality. He has refereed several papers for both local and international scientific journals and has over fifty (50) refereed journal publications in science listed international and African Journals.
---
Dr. Mavis Badu Brempong
Dr. Mavis Badu Brempong is a Research Scientist with the Legumes and Oil Seeds Division of the Institute. Her research interests lie in soil quality management for sustainable crop production in these times of diminishing natural resources and climate change. At CSIR-CRI, she is responsible for conducting research projects that evaluate plant-soil relationships, maintains soil fertility, and integrate climate change adaptations into the institute's technologies, providing agronomic support for developing crop varieties and commercialization of research activities.
In her research approach, she employs methodologies such as soil physical, chemical, and biological property measurements, greenhouse gas measurements, assays for yield quality analyses, and ecosystem modeling to determine climate-smart
soil quality management strategies for sustainable crop production. She has conducted extensive research to improve maize yields across various agroecological zones of Ghana and wheat yields in the drylands of the United States. She also has research experience in improving the drought tolerance of legumes with soil improvement in focus. She has peer-reviewed publications in reputable local and international journals.
---
Ing. Dr. (Mrs) Patricia Amankwaa-Yeboah
Ing. Dr. (Mrs) Patricia Amankwaa-Yeboah is a Senior Research Scientist in the Agric Engineering/Mechanization Division, emerged as the third-place winner. Dr. Amankwaa-Yeboah has diverse research interests in areas such as Climate change/crop modeling, Irrigation/drainage design and management, Soil-plant-atmosphere relations, Aeroponics/Hydroponics as well as Water and nutrient use efficiency in crop production. She is currently involved in benchmarking crop water needs in Ghana and developing aeroponics and hydroponics for root and tuber crops. She is also researching the phytohormonal regulation of plant physiological responses to AWD irrigation in rice and furrow irrigation in tomatoes. She also manages the irrigation facility at the CSIR-Crops Research Institute.
She worked with the Ministry of Food and Agriculture (MoFA) during her national service in 2007, after which she worked as a field staff with the Centre for Agricultural and Rural Development (CARD) while simultaneously studying for a Master of Science degree in Soil and Water Engineering. She studied water harvesting and small-scale irrigation under an Australia Awards Africa short course fellowship at the University of New England in Armidale, Australia. She also is a short course alumnus of the Wageningen University and Research in the Netherlands. She is currently an AWARD fellow.
---
List of Contributors: Patricia Konadu Mensah, Bernard Sakyiamah, Enoch Bobie Agyemang, Augustine Ofosu