CSIR-CRI LADIES CLUB WELCOMES NEW EXECUTIVE MEMBERS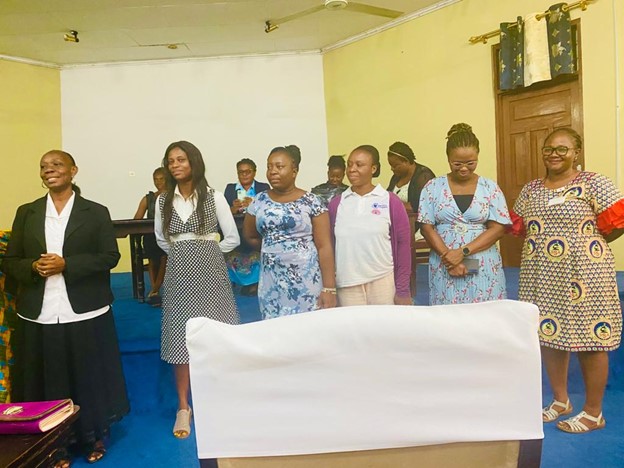 The Ladies Club of the CSIR-Crops Research Institute has elected new executive members to steer affairs of the club for the next two years. This took place at the club's general meeting on Tuesday, 15th August, 2023. The election of new executives became necessary after the tenure of the previous executives successfully came to an end.
Dr. (Mrs.) Joyce Haleegoah, a Senior Research Scientist and a gender expert was elected as the new President with Mrs. Elizabeth Norkor Nartey, a Senior Technical Officer elected as the Vice President. Other members of the new executive board include:
Mrs. Precious Owusu (Secretary), Mrs Paulina Sarkodie (Assistant Secretary), Mrs. Gertrude Osei-Diko (Organizer), Ms. Jennifer Ebo-Nadel (Assistant Organizer) and Mrs. Anita Opoku Gyamfi (Treasurer)
At the meeting, a comprehensive overview of the club's current state was presented by the outgoing President, Ing. Dr. (Mrs.) Patricia Amankwaa-Yeboah.
The newly elected executives were formally introduced and tasked to continue the good works of their predecessors. The President, Dr. (Mrs.) Joyce Haleegoah, spoke on behalf of the executives and indicated their readiness and commitment to serve. "We will do our utmost best to deliver and meet your expectations. However, we will also need the support and commitment of every member in order to be successful", she stressed. Her speech resonated well with the members. She emphasized the importance of teamwork and encouraged all members to contribute actively, assuring them that together, they could surmount any challenge.
The CSIR-CRI Ladies Club remains a testament to the strength of unity among women with shared objectives. With a new team of dedicated executives and a thriving membership, the club is poised to make significant strides in promoting collaboration, empowerment, and mutual support among its members.
Author: Patricia Konadu Mensah