AICCRA AND CSIR-CRI PILOT SUSTAINABLE MECHANIZATION OPTIONS FOR FARMERS IN BONO EAST REGION
More than 80 farmers and agricultural extension officers have been trained on sustainable agricultural mechanization options for land preparation in the Bono East region of Ghana through pilot demonstrations and capacity building activities.
The promotion of Sustainable Agricultural Mechanization (SAM) in Ghana is a collaborative effort between the Accelerating Impacts of CGIAR Climate Research for Africa (AICCRA) Ghana, CSIR-Crops Research Institute, Centre for No-Till Agriculture (CNTA), Trotro Tractor, and the African Conservation Network, based in Kenya.
It forms part of the World Bank's efforts to promote sustainable and climate-smart agriculture in Africa with support from the Korean Green Growth Trust Fund(KGGTF).
Sustainable agricultural mechanization refers to automated farm and post-harvest operations that increase productivity by enabling farmers to plant at the appropriate time, and with the right depth and spacing.
 It reduces drudgery and improves soil structure and organic carbon stock whilst protecting the environment.
Sustainable agricultural mechanization also has the potential to make farming attractive to the youth and easier for women.
At a field demonstration in Offuman, a community in the Techiman North District, a team of technical experts led by Dr. Patricia Amankwah-Yeboah of CSIR-Crops Research Institute, introduced farmers and extension officers to land preparation activities such as ripping and crimping for cereal and legume production, as well as direct drilling for root and tuber crop production.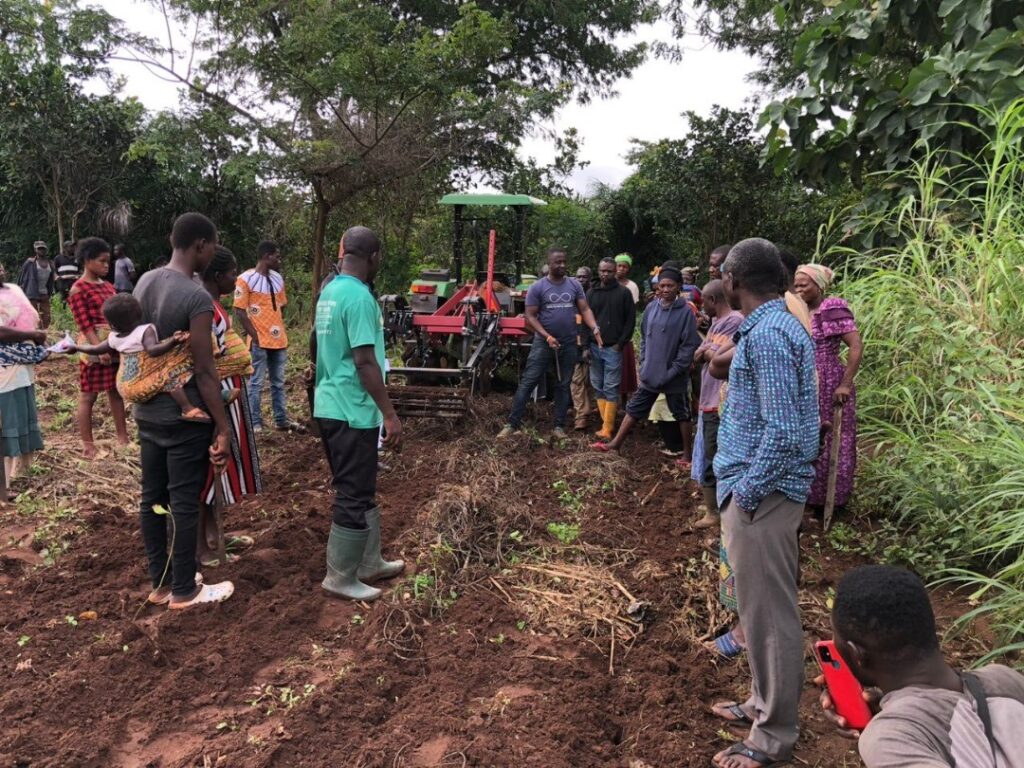 Farmers and extension agents tried their hands at simple hand tools such as the auger drill and the jab planter.
Mr. Micah Apraku Offei, a Chief Technical Officer at CRI explained that the traditional way of ploughing leads to soil degradation, loss of soil and nutrients, and soil compaction.
He added that this traditional method increases the soil's vulnerability to erosion, disturbs the soil microbes, and releases the organic matter stored in the soil into the atmosphere as carbon dioxide.
"By adopting SAM, the farmer is conserving good organic matter for carbon sequestration and improving the moisture holding capacity of the soil, which prevents the crop from suffering from water stress during dry spells", he added.
A technical operator from the CNTA, Mr. Kyei Baffour, stressed the advantages of using SAM equipment saying, "using this simple equipment reduces soil compaction and erosion and increases soil water infiltration and retention'.
Mr. Cosmos Kanmaale, Agricultural Extension Officer in the Offuman, advised farmers to adopt SAM technologies to boost crop yields and improve their incomes and livelihoods.
He explained that thirty crop farmers are being supported by the project to transition their land preparation activities to sustainable mechanization options. The support given is in the form of the provision of SAM land preparation, improved seeds, pesticides, fertilizer and capacity building.
Authors: Reginald Kyere, Bernard Sakyiamah, Dr. Stephen Yeboah, Dr. (Mrs.) Patricia Amankwah-Yeboah, Dennis Gyasi Boakye, Enoch Bobie Agyemang